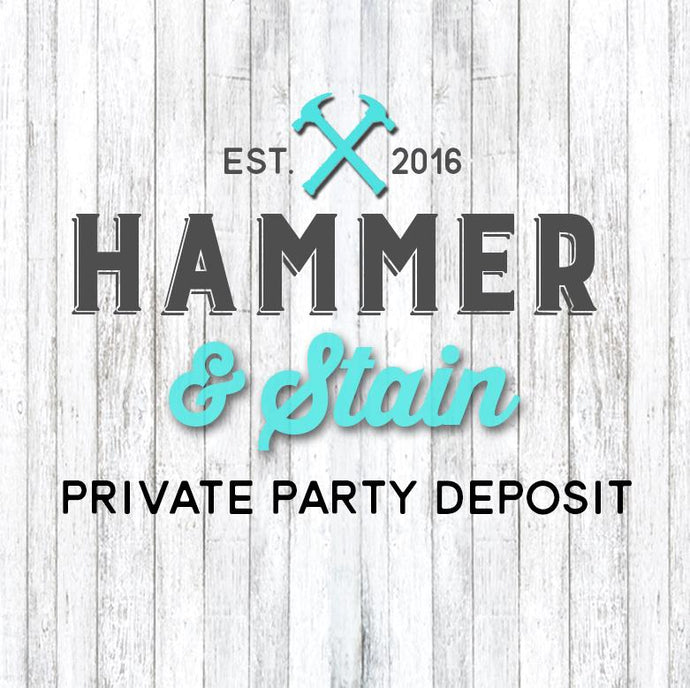 Private Party Deposit
Hammer & Stain
More Info on Private Parties Here!
HOW DO YOU GET STARTED?
HOW TO BOOK A PRIVATE PARTY:
Choose the preferred date and time for your workshop (no later 6:30pm for a start time). We are available Tuesday-Saturday for private parties! We will travel up to 20 miles at no charge; if you live outside of 20 miles there is an additional, non-refundable $50 fee. Please contact us if you are outside the 20 mile radius or unsure. 
Deposit: A $50 deposit is required to reserve your date & time. All deposits are refundable once the party minimums are met. Private Party minimums are 6 guests.
Project Options: Most adult projects range from $40-$90. Once deposit is finalized, you will go to our project gallery (subject to change) located on the website and select up to 3 projects for your group. Please note, all of our stains & paints are water-based and clean up easily! 
Registration: Your guests will need to pay individually via your custom reservation link which will be emailed to you once created. Registration closes 5 days prior to your party in order to cut the stencils and build projects.
As the hostess, you are responsible for inviting guests and making sure they register by your workshop deadline. The deadline for ALL guests to register is 5 days before the event.
If the minimum is not met by registration deadline, we will convert the orders to make at home kits and deliver to you. You can then arrange for your guest to pick up from you. There are NO refunds.
If you have friends who want to participate but can't make the event, they can still purchase a project and we will leave the kit with you. This will count as part of your minimum. Please have them leave us a comment during registration.
Workshop: We provide all of the materials, tools, and step by step instruction! We will handle all set up and clean up.  All projects are raw wood and your guests customize everything at the party with their stencil and by selecting from 18 stains and 45 paint colors. 
Private Workshops will have exclusive access of our instructors for up to 3 hours on the date and time you have secured.
Party Space: We ask that you have sufficient space for safe distancing, good lighting and a small area for us to set up the paint & stain station! We are happy to set up in or outdoors(depending on the weather that day of course)
 PLEASE READ: 
Suggested guidelines :
We will provide gloves to wear and have a hand sanitizer for all guests.
The instructor will get you your paint/stain colors of choice and you will use tools/sponges that are a one-time use or sanitized & cleaned in-between workshops
If you or your guests have a fever or feel sick leading up to the event we respectfully ask you to stay home and contact us before 24 hours to let us know if you are not coming due to feeling unwell - if you cannot attend due to sickness you can opt to make the project at home (we will provide you with everything needed to complete at home - paint/stain/sponges etc.).
Due to most of our projects being made to order we have a NO REFUND policy
For more information please email us at hammerandstainthomasville@gmail.com
CONFIRMATION:
By submitting your deposit, you agree to the terms and guidelines above without exception; this includes our no refund policy.
WHAT'S NEXT?
Once your deposit has been paid, our workshop coordinator will contact you to set up a date/time, go over project choices and set up your exclusive registration link.
Thank you for choosing Hammer & Stain South Georgia for your event!
Regular price $50.00 Sale
Terms
Once your order has been submitted we are immediately beginning the process of production of your personalized stencil. Due to the customizations of ALL of our workshops, there are NO REFUNDS FOR WORKSHOPS OR PRIVATE PARTIES! However, if you cancel with at least 48-hours notice your FULL reservation fee will be turned into a store credit that can ONLY be used for future workshops, kits or parties. Same day cancellations or no-shows will NOT get a credit for a future workshop. Please email us at hammerandstainsouthgeorgia@gmail.com if you need to cancel. If you do not show up for a workshop or party that you have a spot reserved for, you forfeit your payment. Please be sure you have read carefully and understand our full terms and policy before proceeding with checkout.